"Maxwell leads us down a rich and very contemporary urban rabbit hole where the strains of our ecologically precarious, science-saturated age rub shoulders with motherly love, peak hour traffic and dripping taps. Part social commentary, part personal exploration, the poems carry Maxwell's trademark astute eye and sardonic humour, adroitly leavening what might otherwise be at times a dark world view. An assured and fluid style liberally sprinkled with artful juxtapositions (such as "Vivaldi, vodka, and mother's crystal" or "ingrained with gravel and embarrassment") ensure that this is a captivating and highly stimulating read."
— Denise O'Hagan, Editor of Black Quill Press
The poems in Down the Rabbit Hole, as the title suggests, take the reader on a spiralling journey through personal, social and global upheaval. Kate Maxwell's second collection explores the collective mood of uncertainty around the onset and disruption of the global pandemic years. Her poems focus on concepts of disturbance, loss and ultimately acceptance – on the world stage, in the home or in the heart. Maxwell's prose moves fluidly through powerful commentary, lyrical imagery and a touch of wry humour. A familiar place to many, Down the Rabbit Hole, leads us to doors, asks us to make choices and – just like Alice – wonder.
Published by Ginninderra Press.
Orders can also be placed with:
or any fine physical or online bookshop can order you a copy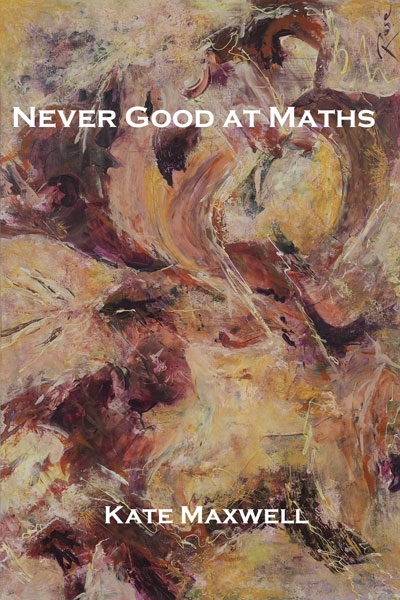 "In its exploration of everyday characters and scenarios, whether with sharp-edged wit or fellow-feeling, the poems in Never Good at Maths will strike a chord with readers, requiring them to re-assess many current issues."
— Margaret Bradstock, author of Brief Garden
Never Good at Maths is a collection of contrasts and voices, ruminating on the everyday, our global, and personal passions. Except Maths. (Spoiler Alert) Kate Maxwell's passion for Maths is not a topic explored in any tangible way. But her poems are delicate and gritty, whimsical, sharp, even if decidedly unnumeric. She paints pictures and tells stories in ever-changing tones and voices. At times satirical or lighthearted, and then deeply moving and personal, many of the poems resonate with raw honesty or humour. With vivid imagery, the underlying beauty of our world is evoked with fresh perspectives.
Published by Interactive Publications. IP is Australia's most innovative independent publisher.
Orders can also be placed with:
or any fine physical or online bookshop